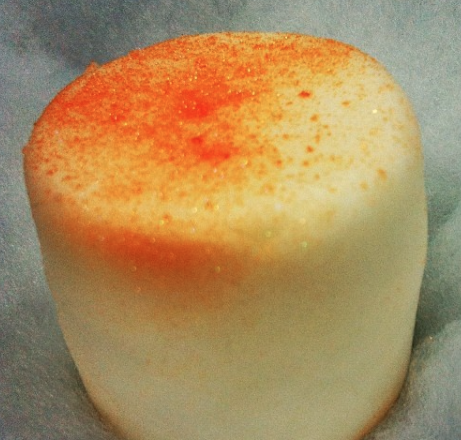 Bath Treat - Pumpkin Marshmallow
This is an utterly delicious blend of pumpkin, sugar, cream, warm vanilla and a light touch of spices such as nutmeg, clove, ginger and cinnamon. If you usually think pumpkin scents are too spicy, give this one a try! It is light, fluffy and you just want to eat it!
Crumble this bar of pure luxury under running water for a foaming fizzing fragrant treat. Made with plenty of shea butter to keep your skin soft and silky. These bars also contain an emulsifier, to disperse the oils in the water, rather than leaving a ring around your tub.
Please note: Due to artistic freedom the bath treat you get could differ in appearance from the one you see in the photograph. All of us here have a different style when it comes to decorating the treats!
Weight: ~60g, enough for 1 bath. 
Ingredients: Sodium Bicarbonate, Citric Acid, Sodium Cocoyl Isothionate, Sodium Lauryl Sulfoacetate, Zea Mays (Corn) Starch, Coconut Oil (Cocos Nucifera), Canola Oil, Emulsifying Wax NF, Butyrospermum Parkii (Shea Butter) Fruit, Parfum.
---
We Also Recommend
---